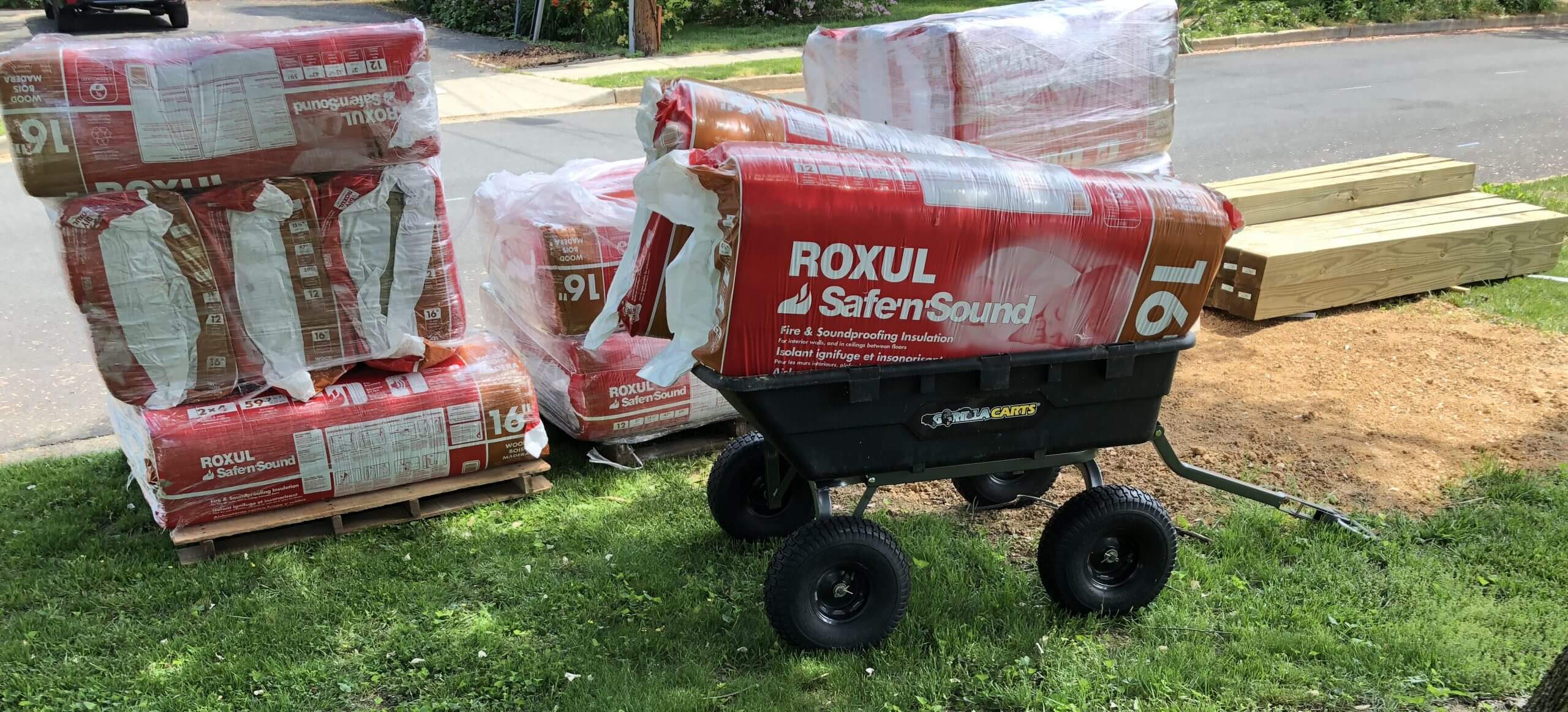 Cory McConnell
"My wife and I bought our first home here in 2012 with the idea that it could be a forever home if we throw some projects at it," says Cory McConnell. Cory works as a project manager and consultant, so he naturally has a bent towards strategic, cost-effective solutions. He enjoys the concreteness that working with your hands provides compared to advising companies about collaboration and communication for problem-solving.
Cory bought his first Gorilla Carts® Cart, the GOR200B model, in spring of 2015. "I was going to block up some basement windows and dig out an egress well and it seemed like a sturdy helper for all of that block and dirt moving," he says. This past fall, he purchased the bigger GOR10-COM model to help him move twenty large bags of Roxul insulation from his front curb to his backyard. Cory adds, "It could easily handle two bags at a time, the big tires glided over our uneven side yard, it fit fine through our old gate, and the zero turn radius helped eliminate any frustration." He says that the enormous tires alleviate all concerns about difficult terrain.
Many of his projects are still in process. "I didn't set out to do all of this DIY stuff. Before we bought the house, I think the most complicated thing I'd done was assemble an IKEA cabinet. But, early on, we had to replace a light here, fix a leaking spigot there, paint some rooms, build a behind-the-sofa table—it just kept escalating," explains Cory. YouTube tutorials and message boards have been invaluable to him on his home improvement journey. He cites the Young House Love blog as one of his favorite inspirations. Cory has learned that the trick to getting the most out of others' advice is to take the process they're teaching and adapt it to your project's unique constraints.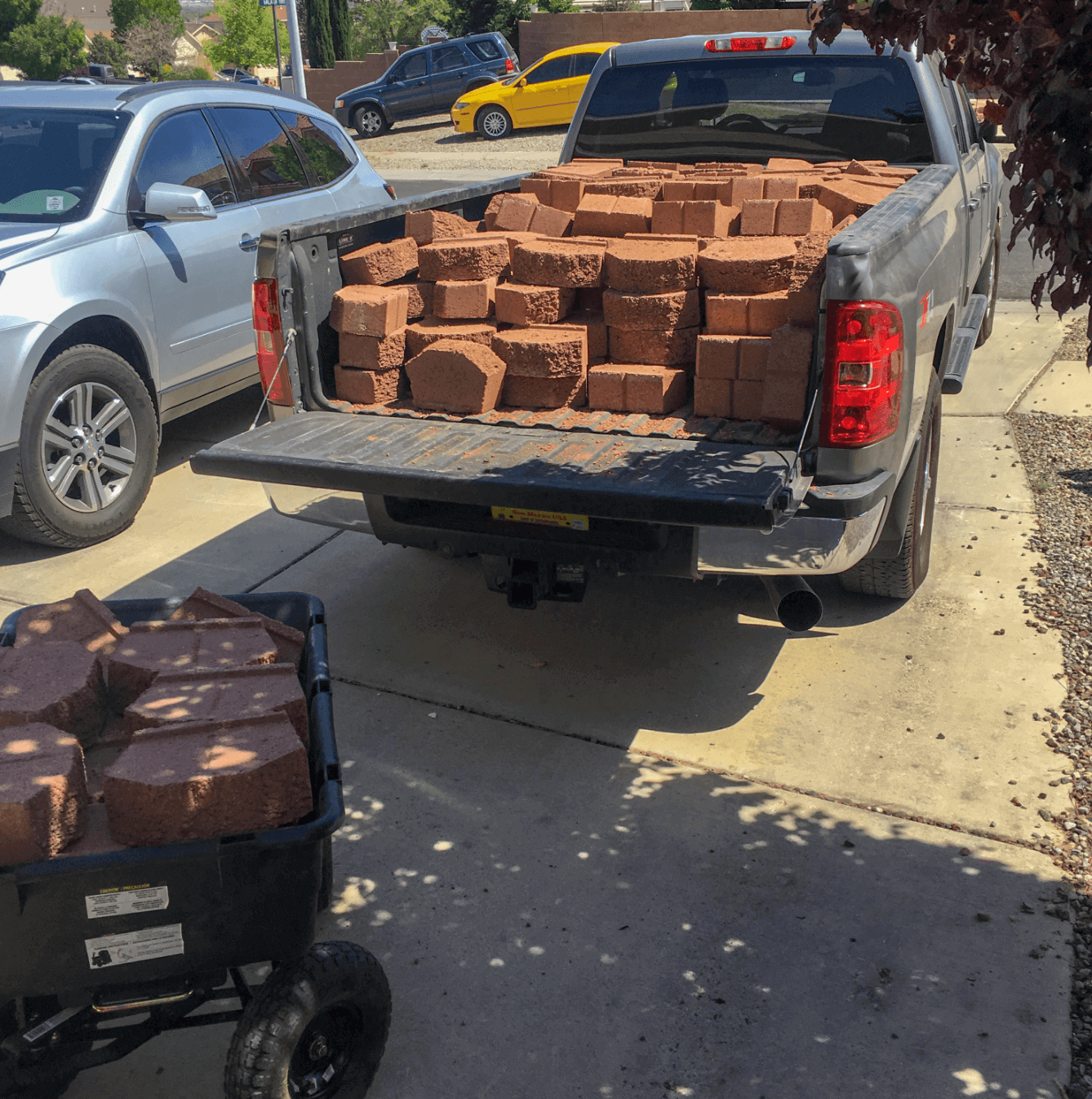 Mario Jaramillo
Mario Jaramillo is a firefighter and paramedic for the Albuquerque Fire Department. When he's not serving Albuquerque communities, he loves to work on his pet project—improving his backyard. "When I initially bought my house, I liked the patio but the yard was a mess. I wanted to build it from scratch and to learn how life grows," he says.
So far, he's built a staircase, retaining wall, and fence. He's in the process of putting together a swing set for his kids too. He's been working on the backyard for three years but estimates he'd got a few years to go before it's finished. Mario shares his vision, saying, "When I'm done with the backyard, I hope to have a grilling area, vegetable garden, fire pit, and a place to put a hammock."
The vegetable garden is already well on its way. He's growing yellow and green squash, green chile, jalapeños, cabbage, cucumbers, watermelon, oregano, mint, rosemary, cilantro, garlic, red grapes, green grapes, roses, lavender, berries, and red, green and yellow bell peppers. There are trees too—ash, pine, blue spruce, cherry, apple, pear, and peach.
"When I started my garden, I bought a wheelbarrow, but after long days I stumbled upon the Gorilla Carts® Cart at Lowe's," Mario says. Intrigued by the dumping feature, he made the purchase. "I have used my gorilla cart to move railroad ties, the playhouse, gravel, sand, blocks, flowers, and my tools," says Mario. He recommends the cart to anyone who's starting a new backyard adventure.
Mario knows the ups and downs of maintaining a garden, but he maintains that there will always be more ups than downs. He states, "I still have a ways to go on my garden but I'm looking forward to the challenges it presents."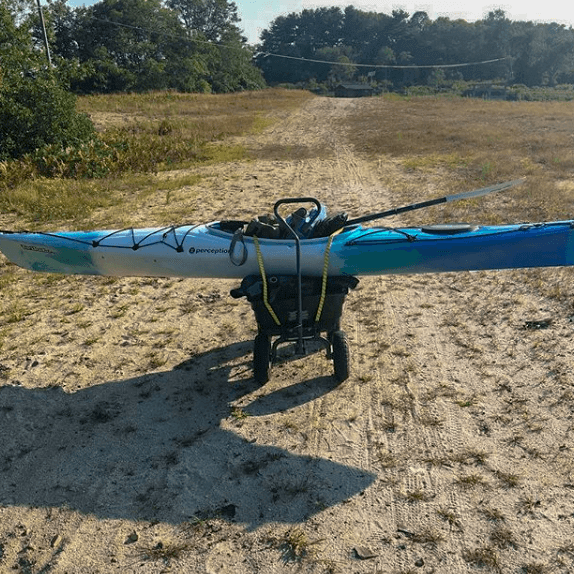 Anne Walters
Having moved from the city where she had to garden in containers to Plymouth, MA where she has an expansive yard, Anne Walters now has lots of space to plant her perennials, fruit trees, and veggies. A clinical psychologist, Anne loves to get out of the office and experience all things outdoors—hiking, horse riding, skiing, kayaking, and, of course, gardening. She purchased her Gorilla Carts® Cart so that she could transfer and spread compost on her garden. "My two favorite features are that it rolls nicely over all kinds of terrain and that it lifts to dump," she says. Anne has found out that her cart is great for hauling her kayak as well. "I started kayaking in my twenties and am in my sixties now," she says. When she started out, she tackled many rough waters. "The whitewater was intense and I swam a lot. I stick to quiet water now!"
Products Mentioned In This Article