Hose Reels FAQ
Whether you're looking for product details, guides & manuals, or frequently asked questions, you can find the latest for your GorillaTM Hose Reel below. Still can't find what you're looking for? Contact us.
Questions about your hose reel?
While we hope your GorillaTM Hose Reel is always intuitive and easy to use, we know there are always plenty of questions. Have other questions? We have Guides & Manuals and a simple Warranty Claim form.
The lot number can be found on a black label on the bottom of the rear leg.
Example: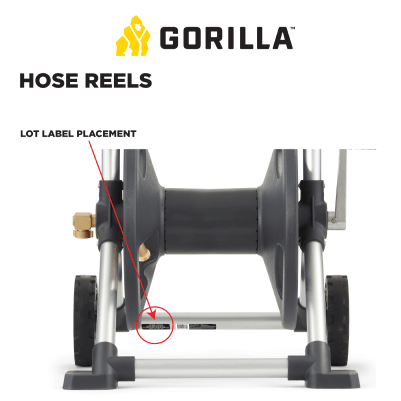 Replacement parts can be found and ordered on each individual product page. Simply look up your existing product and see what parts are available at the bottom of the product page.
GorillaTM Hose Reels come with a 6 ft. long ⅝ inch internal diameter high-quality rubber leader hose.
GorillaTM Hose Reels will work with ⅝ inch and ¾ inch garden hoses 50-100 ft. in length with GHT fittings. Larger hoses will require thread adaptors to connect to the reel.
While the hose reel is built to withstand cold temperatures, freezing water inside the reel can damage hose and plumbing components. During freezing temperatures, drain water from the hose reel and store indoors.
Do not drink water from the hose reel. It is not rated for human consumption.
The wheel spindles can be found inside the axle cross bars of the main frame.
Have A Gorilla HOSE REEL?