Wheelbarrow FAQ
Whether you're looking for product details, guides & manuals, or frequently asked questions, you can find the latest for your Gorilla Wheelbarrow below. Still can't find what you're looking for? Contact us.
Questions about your wheelbarrow?
While we hope your Gorilla Wheelbarrow is always intuitive and easy to use, we know there are always plenty of questions. Have other questions? We have Guides & Manuals and a simple Warranty Claim form.
The lot number can be found on the black label on the bottom of the rear leg.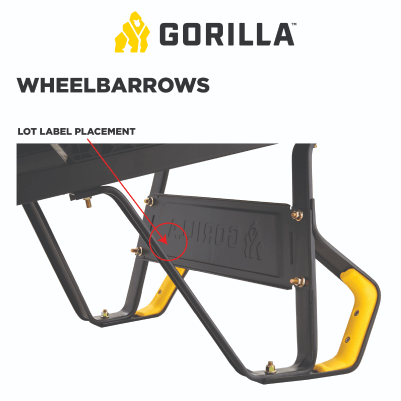 Replacement parts can be found and ordered on each individual product page. Simply look up your existing product and see what parts are available at the bottom of the product page.
Gorilla Wheelbarrows offers a Quick Change Wheel System that allows you to quickly convert the 6 cu ft. Steel Wheelbarrow from a single wheel to dual wheels using the dual-wheel axle kit available online.
Have A Gorilla WHEELBARROW?