Cart FAQ
Whether you're looking for product details, guides & manuals, or frequently asked questions, you can find the latest for your Gorilla Cart below. Still can't find what you're looking for? Contact us.
Questions about your cart?
While we hope your Gorilla Cart is always intuitive and easy to use, we know there are always plenty of questions. Have other questions? We have Guides & Manuals and a simple Warranty Claim form.
The lot number label can be found either on the side of the bed frame or on the underside of the cart on the steel frame.

You can submit a warranty claim using the warranty submission form here.
Replacement parts can be found and ordered on each individual product page. Simply look up your existing product and see what parts are available at the bottom of the product page.
The date stamp can be found on the bottom of the tub showing numbers 1 through 12 with an arrow.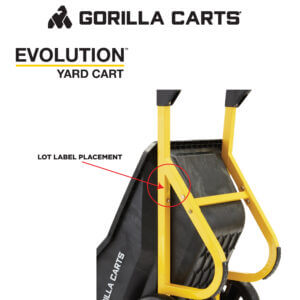 You can find step by step instructions here.
Already Have A Gorilla Cart?