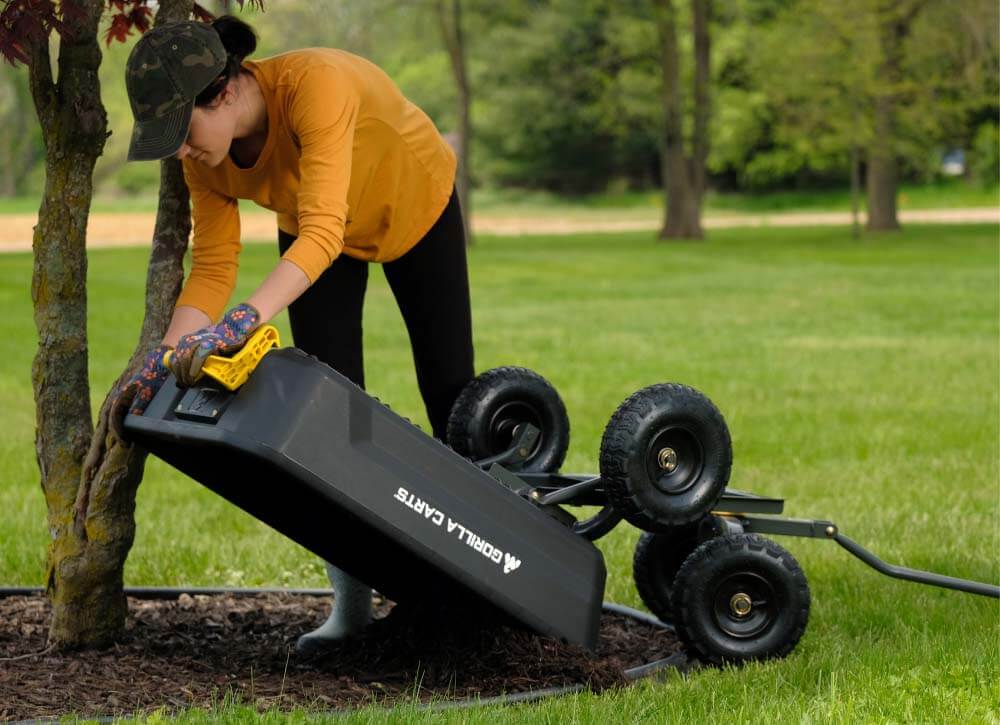 Are you a gardener looking for a new cart to help you carry your gardening tools and plants? Or are you a landscaper needing a new cart to help carry your equipment? Whatever your needs may be, we have three Gorilla Carts that will make your life easier. From a steel utility cart to a heavy-duty poly yard dump cart to steel multi-use dump cart, each of these lawn wagons and carts caters to specific needs all the while helping to make tasks easier. Below we've highlighted three of our most popular Gorilla Carts.
Cart #1: GOR801
Perfect for all professional and amateur gardeners, this easy-to-assemble and newly designed Gorilla Cart is the perfect accompaniment to all lawn and garden projects. Saving both time, money, and energy, this steel utility cart allows all users to quickly and easily move up to 800 pounds. With the bed being 40.25-inches long by 20.5-inches wide, it makes moving all garden supplies very convenient. Plus, the 9-inch tall steel sides are removable, which means you can turn this cart into a flatbed for even more flexibility in hauling. On top of that, the 10-inch tires are specifically designed to tackle any type of terrain.
Looking to haul this cart across many acres? The handle allows this cart to be hooked up and towed behind any lawn tractor or ATV.
Cart #2: GOR6PS (-C)
Attention all outdoor enthusiasts. If you're looking for the perfect outdoor wagon, look no further than our Heavy Duty Poly Yard Dump Cart. Featuring an updated design, this balanced four-wheel cart can haul up to 1,200 pounds. One of the unique aspects of this cart is the patented quick-release dumping system which helps to make loading and unloading gardening, lawn care, barn and farm items that much easier. Plus, the four-wheel design and strong frame help to improve maneuverability, rigidity, and gives the cart a tighter turn radius, making this cart a great alternative for the traditional wheelbarrow.
Hauling manure? Leaving the cart outside in the heavy rain? Worry no more. The 40-inch by 25.6-inch poly bed is not only spacious and durable but it's easy to clean and won't rust.
Cart #3: GORMP-12
Built to do it all, our multi-use cart has the ability to lug up to 1,200 pounds. What makes this cart different from the above two? It's a great combination of both steel cart durability and dumps cart functionality! With removable sides, this cart can easily turn into a 39.4-inch by 22-inch flatbed. Other features we love about this cart are the all-terrain 13-inch tires and patented quick-release handle that minimizes stress whether you're pulling by hand, lawn tractor, or ATV. Made of industrial-grade steel that's over 40% thicker than other carts, you can easily unload dirt, rocks, mulch, or logs.
Why else will you love this cart? It's not only sturdy but it's durable and great for everyday outdoor use. Our users say it best when they describe this product as high quality.
And there you have it, three Gorilla Carts that will make your life easier no matter what task you need to complete! Do you have additional questions about any of the above three garden wagons and carts? Contact us today. Our excellent customer service team is waiting to help assist you.
Products Mentioned In This Article